Courses at all levels
Full-time/part-time
Morning, afternoon, evening classes
Preparation for Cambridge exams
IELTS Preparation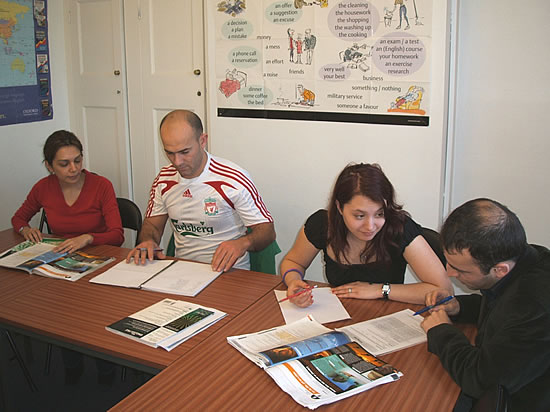 At OME lessons include grammar, vocabulary, conversation and pronunciation. Listening, reading and writing practice are also included in your course. We can prepare you for Cambridge exams and the IELTS test. Our courses enable you to have regular exam practice and help you to become familiar with examination techniques.

Our teachers are committed to helping you gain the most from your course. You will be given homework, and at certain times during the course you will be given tests in order to check that you are making progress.

On your arrival at OME we will ask you to take a short assessment test to determine your level and we will discuss with you which class is best for you.


Levels
---
Advanced
Upper Intermediate
Intermediate
Pre-Intermediate
Elementary
Cambridge Examinations

---
Advanced (CAE)
First Certificate (FCE)
IELTS Test
---
The IELTS (International English Language Testing System) qualification is recognised as an entry requirement for undergraduate and postgraduate courses in universities and professional institutions
2017

Description

Hours/week

Winter
2017


Spring
2017

Summer
2017

Autumn
2017

General English

4

£240

£230

£200

£240

6

£330

£310

£250

£330

9

£450

£410

£320

£450

15

£780

£720

£570

£780

IELTS

4

£270

£260

£230

£270
The cost of course books and examination fees are not included in the course fees.
The cost of the course book is approximately £25 and examination fees are approximately £120.
2017

Term

Starts

Ends

Weeks

Winter

09 January

31 March

12

Spring

17 April

30 June

11

Summer

03 July

25 August

8

Autumn

18 September

8 December

12
Morning classes are 3 hours 09:30 – 12:45 (including 15 minutes' break).
Afternoon classes are 2 hours 13:15 – 15:15. (No break)
There are no classes on public holidays.
Public/Bank holidays 2017:
2 January - New Year's Day
14 & 17 April - Easter
1 May - May Bank Holiday
29 May - Spring Bank Holiday
28 August - Summer Bank Holiday
25, 26 December – Christmas

There is a registration fee of £55 for Visa students and £25 for non-Visa students.
Minimum enrolment age is 18 years.
Payment methods
1. Payment can be made in cash, or by cheque payable to OZMUTES Ltd or by bank transfer.
2. If you are applying from outside the UK, you can pay by bank transfer. Please add £10 to cover bank charges.
Our Bank:
TSB Bank
53 St Ann's Road
Harrow
HA1 1JU

| | | |
| --- | --- | --- |
| Account Name: | | OZMUTES LTD |
| Sort Code: | | 30 96 66 |
| Account No: | | 02292388 |
| BIC Code: | | LOYDGB21490 |
| IBAN: | | GB04 LOYD 3096 6602 2923 88 |
| | | |
On receiving your payment, we will confirm your enrolment in writing
3. We are open:
Monday - Friday: 09:00 – 16:30
Tuesday and Thursday evenings: 19:00 – 21:00
Saturdays: 13:00 – 16:00
If you would like to come at any other time, please make an appointment.
If you have any further questions, please contact us. We look forward to welcoming you to OME!
The form 'Application for Refund of Course Fee' must be completed and submitted to OME.
A refund will be given:
If OME has to cancel a course, for instance if there are not enough students enrolled for the course. In this case a full refund will be made.

A refund may be given at the discretion of OME:
If a student is refused a visa and can provide the original official refusal letter from the immigration authorities.
If a student is unable to start or continue a course for medical reasons and can provide the original medical certificate.
A refund will not be given:
If OME refuses the student after assessment, because the student's level of English does not match that on the evidence provided.
If a student is asked to leave the country by the British Authorities, or a Visa is refused for a reason such as fraud or overstay.
If a student is excluded from the course because the Rules of Attendance are broken.
If a student changes his/her mind about attending the course paid for.
Notes

You will be asked for evidence to support your reason for refund
Fees for Registration and Accommodation Arrangement are non-refundable.
If a refund is granted:


The cost of any classes already provided will be deducted from the course fee, and their cost will be calculated according to the weekly rate for classes.
An administration fee of 20% will be deducted from the remaining amount.
The administration fee may be increased at OME's discretion (to a maximum of 30%) in certain circumstances such as repeated Visa applications.

Refunds are usually made to the account / person who paid the course fee
Refunds are granted after the date of receipt of your form and evidence.
Refunds may take up to 2 months from the date of receipt of your form and evidence.